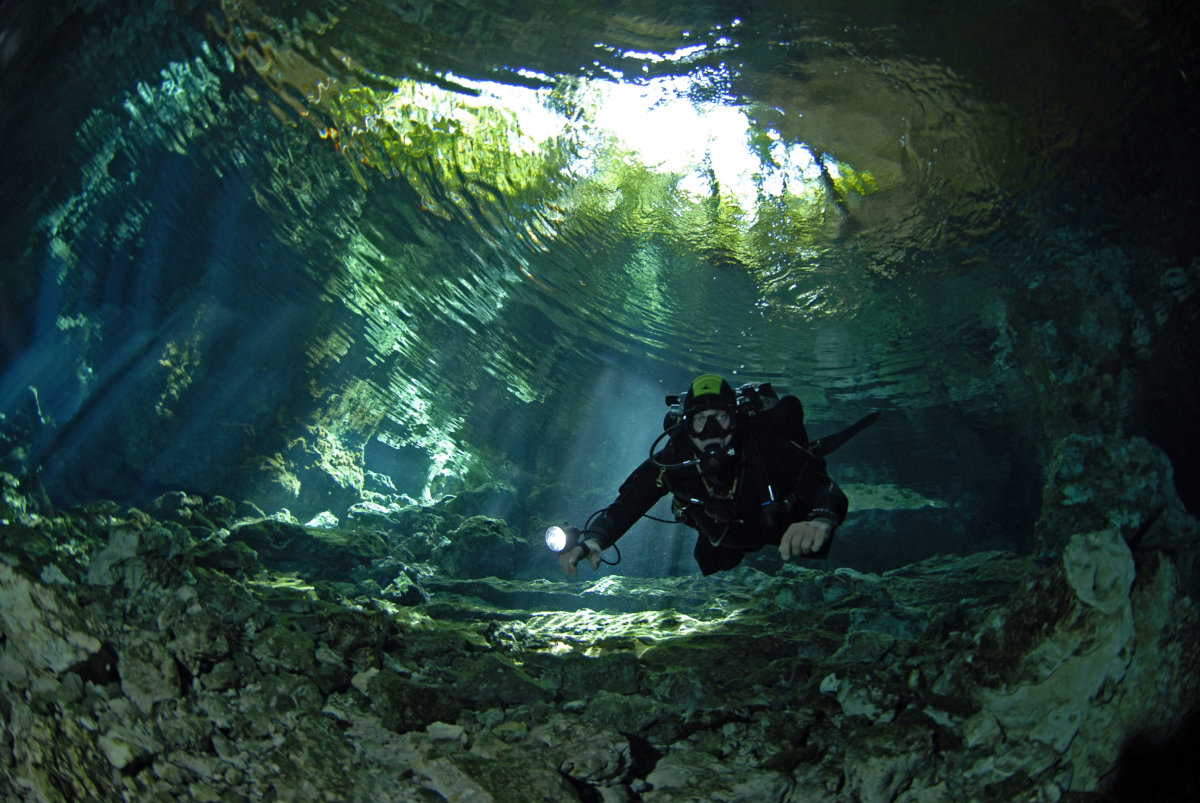 Cenote diving in Playa del Carmen
Divers can discover some spectacular scenarios to explore in Riviera Maya: they are called Cenotes.
Although cenotes are distributed all around the Riviera Maya, in the surrounds of Playa del Carmen there are some of the most interesting cenotes of the whole Yucatan.
According to the ancient Maya, cenotes were the homes where the rain god was used to live and the ancient Maya were used to offer human sacrifices to ingratiate this god.
Cenotes were filled with a large quantity of water and therefore they were a natural fresh water supply in the Yucatan peninsula and were used in the construction of the stunning Maya towns all around this region.
Cenotes are opened up to any kind of qualified scuba diver from OWD on. Nevertheless, dives should be guided by absolutely competent guides, particularly trained for this type of dives.
Dives should follow specified paths along a fixed to the bottom line. Deepness can vary between 9 mt/30 feet and 17mt./60 feet and the current is slow and can generally flow in the upstream or downstream direction.
For what it concerns the equipment, you don't need anything special: the usual 12 liters tank and wet suites for a temperature which is around 25 °C.
The most magnificent Cenotes in Playa del Carmen are: Tajma Ha, Ponderosa, Angelita, Dos Ojos, Carwash, Chikin Ha, The Pit, Zapote and Kin Ha. They are all within a short trip from Playa between 40 minutes to 1 hour drive.
Cenote Tajma Ha
This is one of the most beautiful cenote in the Riviera Maya and is located 29 Km south of Playa del Carmen.
Its maximum depth is around 13 meters/35 feet and is suitable for both cave and open water divers.
The cavern tour take the diver trough amazing areas with sunlight beam penetrating in the water and also haloclines developing fascinating mirror-like impacts.
During the dive you can see a bunch of decor (stalactite, stalagmite and also columns) as well as concealed fossils.
In the warm days it is possible to see amazing play of light, going across the cenote Sugar Dish as well as than diving near to Bil's Opening Cenote.
Cenote Ponderosa
At 28 Km from Playa del Carmen, this cenote provides an outstanding perspective. It is like a massive swimming pool in the center of the jungle. It is fantastic for snorkeling, cavern diving and cave diving.
Throughout the dive you will pass through a sort of a tunnel connected with the Cenote Corral is where you'll spend a lot of part of the dive passing in places with strong halocline and shallow places with fantastic light effects.
With a maximum depth of 14 meters/45 feet and a bunch of shallow areas this dive is perfect for all the divers
Cenote Angelita
Is not a typical cenote dive, but is an incredible experience.
For minimum advanced divers only; the maximum deepness is 58 meters/180 feet.
After a 5 minutes' walk through the forest you get to the round formed cenote. After leaving the surface area, you dive in very clear water until you sink right into a hydrogen sulphate layer at 30 meters/95 feet.
The salt water simply begins under the clouds, thus offering the diver a mystical sensation. Throughout the ascent you will fly on the cloud and alongside the wall surfaces you could appreciate substantial stalactites, hanging from the edge.
This cenote is sited 17 kilometers south of Tulum is the most remote area visited from Playa del Carmen.
Cenote Dos Ojos
The entryway to this cenote is just few meters after Puerto Aventuras.
The name suggests "two eyes" as well as is positioned 50 kilometers south of Playa del Carmen.
Is one of the prominent and also well-known cenote.
The significant system requires two various dives to be uncovered. Both the dives begin as well as finish in the very first eye (eastern eye). During the cavern excursion you could swim in fresh crystal water and about large pillars as well as stalactites. The very first dive leads mostly around the "second eye" (west eye).
The second dive is around the Bat Cave that is a bit darker yet we guide you in impressive covert globe.
Cave divers discover an area to plan various dives. With about 60 Kilometers of checked out length and also connected to over 25 cenote, Dos Ojos is among the lengthiest system on the Peninsula. In this area IMAX films fire parts of the IMAX movie "Quest into impressive Caves" released in 2001.
For non divers Dos Ojos is the excellent location to swim and snorkel in an incredible Cenote.
Cenote Carwash
Also referred to as" Auto Clean" no longer was made use of to clean taxi.
Is sited 8 kilometers outside Tulum in Coba direction.
The access is in a little lake as well as for cave divers is possible to visit the upstream and downstream side.
As soon as you leave the surface area you travel through the origins and fallen trees, looking back to the entrance, it looks like we are under the clouds and few meters away we discover lovely developments.
The maximum deepness is around 15 meters/45 feet as well as you require a great resilience to prevent taking up silt
Cenote Chikin Ha
Located 25 Kilometers from Playa del Carmen, is the initial cenote in a system that links several cenote trough greater than 10 km of undersea passages.
During the dive we move in the instructions of Raibow Cenote as well as soon as we reach a deepness of regarding 10 meters/33 feet strange aesthetic results can be seen, because the fresh as well as seawater begin to mix; we call that halocline. Moving close to the surface area we could discover a bunch of origins of many plants browsing for the water as well as producing a below ground forest.
Looking towards to the entryway we value lovely light results. The optimum depth is 14 meters/45 feet as well as the big passages develop a spot for all the divers.
Cenote dive is an unique and amazing experience for all divers!!!